Nice tried!
I'm a NOOB in baking! In my mind, Chocolate cakes are normaly baked instead of steamed and am tempted to try out this recipe which shared by
Edith
. I also listed this cake in my lastest
Meme
and finally tried it out. Hmmm... Nice Cake!
Oh oh... That's another Steamed Chocolate Cake Recipe which I'm keen to try. It's the "Steamed Moist Chocolate Cake" shared by
Evelyn aka Tazz
... That sounds Super Yummy too! ;P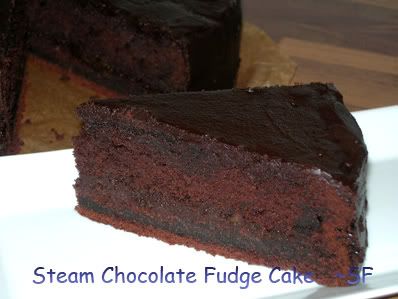 ------------------oOo------------------

Okie... Here we come to the Green Tea Cheeseballs! Actually, it's a modified recipe from my previous post "Tiramisu Balls". Just tried out for fun but to my surprise... DH & friends love it. *Happy*... ;)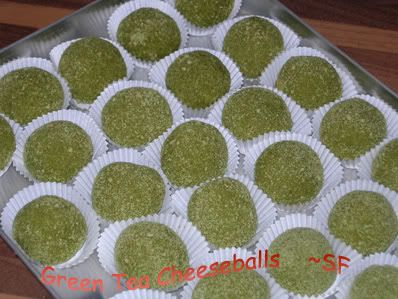 Make 30 Balls
Ingredients
250 g Savoiardi (Sponge) Fingers, crushed
80 ml Boiling Water
2 tbsp Green Tea Powder
250 g Cream Cheese, rm temp
150 g Ricotta Cheese, rm temp
2 Egg Yolks (Optional)
1/2 cup Vanilla Icing Sugar
1/2 cup Icing Sugar
For coating
2 tsp Green Tea Powder
50 g Sweet Plain Biscuits, crushed
Method:
Melt green tea powder in boiling water and let it cool.
Using a whisk /wooden spoon, mix cream cheese, ricotta cheese, egg yolks (if use) and icing sugars till well mixed. Add in the green tea mixture and mix till well-combined.
Stir in crushed fingers. Refrigerate the mixture for at least 30 mins before rolling to balls.
Mix the coating ingreadients in a bowl and roll mixture into 30 balls (See note).
After second rolling; Coat each ball evenly and refrigerate the balls with cover.
Recoat the balls again and serve.

Note:- The mixture is a little sticky while rolling it into balls. Don't worry, juz roll as per normal (the shape of the balls wouldn't be prefect round). But after refrigerating them (as they are much harder), roll them again into nice rounded shape and coat/roll with cocoa powder.