Tiramisu Balls
First of all have to Thanks Mellie as the original recipe was from her which she shared it in NK. My 1st attempt making these was 25 Dec '05. Ohhh... It's really easy to make and we simply love it. So last night, I decided to make some again for DH's colleagues, but this time I have tweaked it alittle.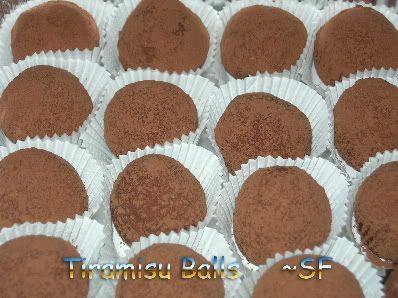 Make 30 Balls
Ingredients
180 g Savoiardi (Sponge) Fingers, crushed
100 ml Boiling Water
21/2 tbsp Instant Coffee Powder
80 g Plain Chocolate Biscuits, crushed
250 g Mascarphone Cheese
125 g Cream Cheese
1/2 cup Vanilla Icing Sugar
1/4 cup Icing Sugar
1 - 11/2 tsp Rum Essence or Brandy*
Cocoa Podwer for coating
Method:
Melt coffee powder in boiling water and let it cool.
Pour in the coffee mixture into the crushed fingers. Mix well and set aside.
Using a whisk/wooden spoon, mix mascarpone and cream cheese, icing sugars, vanilla and rum essence/brandy till well mixed. Stir in fingers and crushed cocholate biscuits.
Roll mixture into 30 balls. Refrigerate the balls with cover for at least 30 mins or till ready to serve.
Coat/roll the balls in cocoa powder and serve.
Note:- The mixture is a little sticky while rolling it into balls. Don't worry, juz roll as per normal (the shape of the balls wouldn't be prefect round). But after refrigerating them (as they are much harder), roll them again into nice rounded shape and coat/roll with cocoa powder.
For those who prefer non-alcohol:- Replace the Rum Essence/Brandy with 1-1/2 tsps of Vanilla Essence but change Vanilla Icing Sugar to normal Icing Sugar.
Happy trying!