LaZiNeSs...
Helloooooooos all, I'm back but still too lazy to do anything, except log-in to NK, visiting kakis' blog, posting at their blog, kpo here and there! Ohhh... Think I have kana (got) infected with the International Virus - 'LAZINESS'!!! *Lol*
Curious DH asked why I am not baking or cooking these day...? I gave all kind of excuses / reasons to cover-up myself as a Lazy Bone. Bad huh!?? Hope that I will recover from it ASAP... ;P
Okie... This is my 1st Made for Year 2006, Tri-Chocolate Cheesecake which I made couple days ago (again too lazy to dload the pic till 2day). From the cake you can see how lazy I am, don't even bother to smooth the layer of the cheese mixtures!!! *Grrrr*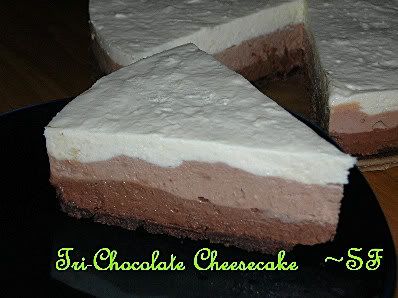 Make a 24 cm Cheese Cake.
Ingredients
For the Base
180 g Plain Chocolate Biscuits
90 g Butter, melted
For the Filling
1/3 cup (80 ml) Water
11/2 tbsp Gelatine
500 g Cream Cheese, at rm temp
1/2 cup + 3 tbsp Sugar (Most if you prefer sweeter in taste)
3/4 cup (180 ml) Milk
100 g Dark Chocolate, melted
100 g Milk Chocolate, melted
100 g White Chocolate, melted
350 ml Whipping Cream, whipped
Method
Line base of a round springform cake tin with foil or baking paper.
Place biscuits in a plastic bag and crush it with a rolling pin till finely crushed (or you can use a food processor to do it); Transfer to a blow and add in the melted butter; Mix till well combined; Press into the base of the cake tin; Refrigerate for about 20 minutes or until firm.
To making filling: Bring the water to boil; Add in gelatine and stir till all gelatine has dissolved, cool slightly.
Beat cream cheese and sugar till smooth; Add milk beat till well-combined.
Divide cheese mixture into three even portions; Fold in melted dark chocolate into one of the portion; Then melted milk chocholate into the second portion and melted white chocolate to the last portion.
Fold in one-third of the gelatine mixture into each portion; Mix well.
Gently fold one-third of the whipped cream into each portion of cheese mixture; Mix well.
Spoon and spread the dark chocolate cheese mixture over the prepares biscuit base; Smooth surface.
Carefully cover with the milk chocolate cheese mixture, followed by the white chocolate cheese mixture.
Cover the cake tin with a foil and refrigerate for at least 4 hours or until set.