Pineapple Tarts (Joshua's 2005 Version)
I'm a huge fan of Pineapple tarts. With additional temptation after reading good reviews of "Joshua's 2005 Version Pineapple Tarts", again from
Evelyn's
,
Jas's
&
Judy's
blog. I got all the ingredients ready in no time! As known, I'm not hardworking person *Grin*. So I didn't making the pineapple filling from scratch, I used canned pineapple, also added cinnamon stick, cloves, lemon juice, etc to make the filling
(refer to the recipe posted below).
"OMG... JOSHUA, U huh, This little boy huh!!!" These were what I mumbled when I tried one after another from the 1st baked and at that moment I understand why Evelyn needs to spank Josh and why Jas baked her 2nd batch PA tarts within 20 days *Lol*... The buttery aroma of the crust was so delightful and soft, even through I didn't used the Golden Churn Butter as
this brand is not available here... :( The recipe definitely is a keeper.
Thank you so much Josh!!!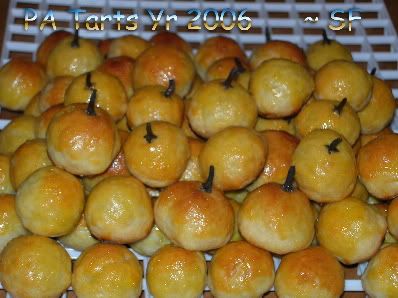 Ingredient (for the filling)
31/2 cans Pineapple in syrup (I used those rings type and the brand - 'Del Monte')
Abt 3/4 cup Sugar (Adjustable to your own sweetness preferred)
2 big pcs Cinnamon stick
5 - 6 Cloves
2 tsp Butter
2 tsp Lemon Juice
Few drops Pineapple Essence
Method:
Strain off the syrup for the pineapple (reserve some juice); Chop pineapple with a knife (not too fine).
Put the chopped pineapple into a heavy saucepan; Add in sugar, cinnamon stick, cloves, butter and lemon juice; Cook over medium heat till half dry; Turn down to low heat; Add in the pineapple essence; Keep stirring till almost dry. Adjust the sweetness to your preference. *If your jam was too dry, add in the reserved juice (one tbsp at a time).
Leave from heat and let jam cool completely before transfer to a container for storing. *Keep jam in the fridge overnight for easy rolling when use.