My Another Gain in Baking!
Made DIY BBQ Pork (Bak Kwa) this afternoon using the reipe shared in
Evelyn's blog
. It's a *Thumbs up* recipe and of course not exactly the same as those store bought ones but the taste and texture were very close. We love it and finished every thing within a day... Damn scary, rite!? It's also a
'D & D' = 'Devil & Dangerous' recipe
to me as not only fattening but gonna make some 'liang teh'
(Chinese Cooling tea)
the very next day... *Lolz*
*My Biggest Muak to Evelyn aka Tazz*! With many thanks to you for the sharing of recipe and tips. I owe u, Eve! ;P
For those who are interested in the recipe, Click here!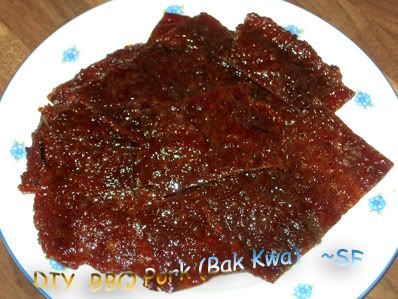 ----------------- oOo ------------------
Yes... After baking the DIY BBQ Pork, I made these Tau Sar Pian - Penang Style! Well... I'm not 'SUPER WOMAN' as the filling was prepared the night before. *Big Grin*
Mmmm... They taste good and most important DH likes it. The recipe was shared by tthksy at KC and posted in NK by Leelee. Lucky that Leelee shared it in NK that we can direct link & read it. I havled the recipe and made 40 Tau Sar Pian.