Chilled Blueberry Cheese Cake
Once again, my fault... Bought a jar of blueberry pie filling and it had been sitting in the fridge for quite a while... *Sigh* At first, thought of making buleberry pie or a baked blueberry cheese cake (due
to a little lazy to bake
) and I ended out with a Chilled Blueberry Cheese Cake. ;P With no regret... Both of us (DH & me) liked this cheese cake as much as we liked
the Chilled Strawberry Cheese Cake that Judy shared
.;)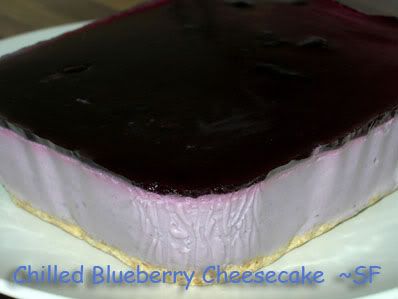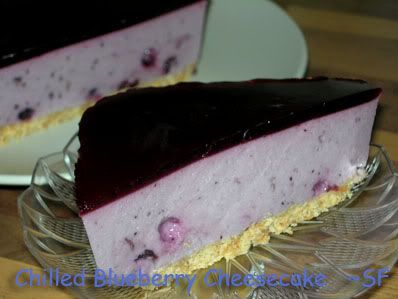 Makes a 9 inch Springform pan
Ingredients:
Crust
200g Graham Crackers, crushed
80g Melted Butter
2 tbsp Castor Sugar
Filling
1/4 cup Hot Water
2-1/2 tbsp Gelatin
375g Philadelphia Cream Cheese, at rm temp.
1 cup Whipping Cream, whipped
1/4 Sugar

( Adjust to the sweetness of yours!)

2 tbsp Lemon Juice
2-1/2 cup Blueberries Pie Filling
For the Mirror, please referHERE! Just replace the amount of Strawberry puree with Blueberry pie filling.
Method:
Line the base of the pan with foil, lightly grease with melted butter.
To make crust: Mix the crushed biscuit and sugar in a mixing bowl; Mix well. Stir in the melted butter and mix till well-combined. Spoon the biscuit mixture evenly into the prepared pan and press frimly into the base of the pan with the back of the spoon. Refrigerate for 20 minutes or until firm.
To make filling: Sprinkle gelatine over HOT WATER; Stir till gelatine is dissolved, cool slightly. Beat cream cheese, lemon juice and sugar until smooth. Using a whisk, add in the blueberries pie filling; Stir in the gelatine and mix well; Gently fold in the whipped cream.
Pour filling into crust; Smooth surface and chilled for at least 6 hours or until firm.