Double Chocolate Muffins
Just miss something which is very chocolate and a Chocolate Cake would be to much for me to finish it alone
(as DH don't like Chocolate)
*Sigh*. Yape... Muffins are the one as they are quickly made and quickly eaten. Best part, I just need 2 Muffins to ease/satisfy my craving and the rest I'm giving out to friends... Less sinful! *Grin*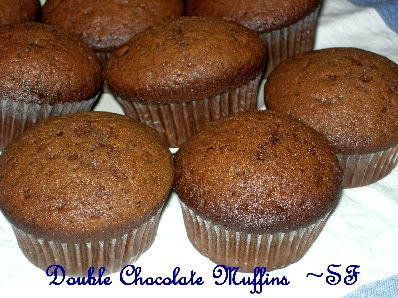 Makes 18 Muffins
Dry Ingredients:
3 cup Plain Four
1/3 cup Cocoa Powder
1 tbsp Baking Powder
1/2 tsp Salt
1 tbsp Cinnamon Powder
1 cup Dark Chocolate, chopped and coasted with 2 tsp Plain Flour *See note below

Wet ingredients:
2/3 cup (160 g) Vegetable Oil or Butter, melted
11/4 cup Sugar (increase if u prefect sweeter in taste)
5 tbsp (75 g) Cream Cheese, melted *See note below
3 Large Egg, lightly beaten
2/3 cup (160 ml) Milk
2 tsp Vanilla Essence
Method:
Preheat oven to 375 deg F (190 deg C). Sift the dry ingredients (except chopped dark chocolate) into a large bowl & mix well . Make a well at the centre. Set aside.
Melt butter in mircowave in HIGH for 30 seconds or till totally melted; Add sugar into the hot butter, stir till sugar dissolved; Add in the rest of the wet ingredient & stir till well-combined.
Pour in the wet mixture into the centre of the dry mixture. Using a fork or whisk, stir till just moisten (mixture will be lumpy)... DO NOT OVER STIR! Add in the chopped dark chocolate into the batter, stir lightly with 1 - 2 strokes.
Spoon the batter into the prepared muffin cups (3/4 full). Bake for abt 25 - 30 mins or until tester inserted into the centre comes out clean.
Notes to share: - To melt the cream cheese, put it in the microwave in HIGH for abt 15 secs; Take out, stir well and put back to microwave for another 8-10 secs till melted.
- Coat the chocolate with plain flour is to prevent it from sinking to the bottom of the muffins. To avoid overmixing of the batter, you can stir them into the dry ingredients b4 pouring the wet mixture into the dry ingredients.
Happy Baking!