Glutinous Rice in Lotus Leaves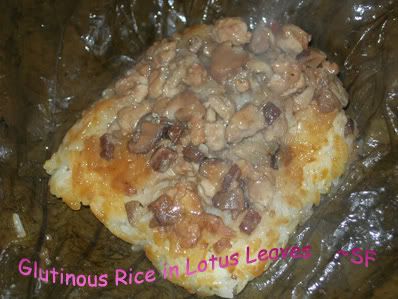 Makes 10 nos.
Ingredients:
5 Dried Lotus Leaves
3 cups Glutinous Rice, washed, soaked for 4 hours & drained
1 tbsp Shallot Oil
1 tsp Salt
1 tbsp Light Soya Sauce
8 nos. Medimum size Chinese Mushroom, soaked & diced
450 g Chicken Meat, diced
120 g Prawns, peeled, deveined & finely chopped
2 Chinese Sausage, diced
3 tbsp Cooking Oil
2-1/2 tsp Fresh Ginger, grated
1-1/2 tbsp Oyster Sauce
1-1/2 tbsp Light Soya Sauce
1 tbsp Chinese Cooking Wine
1-1/2 tsp Sugar
1-1/2 tsp Sesame Oil
1/2 tsp Pepper
1 tsp Dark Soya Suace
Salt to taste
2 tsps Cornflour with 1 tbsp Water
Method:
Soak dried lotus leaves in hot water for 10 - 15 mintues. Cut into half and then patted dry.
Line a parchment paper in a tray and pour in the drained glutinous rice; add in the shallot oil, salt and light soya sauce; Mix well.
Steam rice in rapidly boiling water for about 45 minutes. *At about 30 mins, open steamer cover; use a pair of chopstick stir the bottom rice up and spinkle some water over rice; stir well. Cover and steam again.* When rice is cooked, fluff up rice to cool.
Heat up the 3 tbsp cooking oil, add grated ginger and stir-fry briefly. Add diced chicken meat and finely chopped prawns.
Add in mushroom, chinese sausages and the rest of the seasoning. Stir-fry for about 3 mins. Lastly add in the cornflour mixture and stir to thicken. Mix well and remove from wok. Set aside to cool.
Divide rice into 10 portions. Wrap rice with 2 tbsp of meat mixture in halved lotus leaf. Steam for 30 minutes before serving.