Apple Cinnamon Cake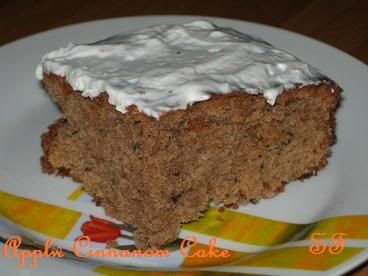 Makes 23 cm round cake
Ingredients:
125g Butter, rm temp
1-1/2 cup Plain Flour, sifted
1-1/2 tsp Baking Powder, sifted
1/2 tsp Baking Soda,sifted
1/2 tsp Salt 1 tbsp Cinnamon Powder
1/3 cup (80ml) Milk
3/4 cup Sugar
2 Large Eggs
2 Apples, peeled, cored & finely chopped
1/3 cup Walnuts, coasely chopped coated with 1.5 tsp plain flour

Frosting (Optional)
1 cup (125g) Cream Cheese, rm temp
2/3 cup Icing Sugar

Method:
Preheat oven to 350 deg F (180 deg C). Brush a deep 18cm (7-inch) round cake tin with melted butter or oil. Line the base with side with baking paper.
Combine all the ingredients in a mixing bowl (expect apples & walnuts). Beat with electric beater on low speed for 1 minute. Grandually increase the speed to medium and beat for another 3 minutes, or till the mixture is smooth and has changed in colour. Fold in the chopped apples & coated walnuts, with a few stir or juz combine.
Spoon the mixture into the tin and smooth the surface. Bake for 45 minutes or until a skewer comes out clean when inserted in the centre of the cake. Set the cake aside for 5 minutes before turing onto the wire rack to cool.
Frosting: Place cream cheese in a microwavable bowl and microwave on HIGH for 30 - 45 seconds or until slight softened; Mix well with icing sugar and spread over top of cooled cake.