Steamed Yam Cake (蒸萝卜糕)
I have made this yam cake for a couple of time using this recipe. I got this recipe from internet, couldn't remember which website... Since now I have my own blog, just post here to share.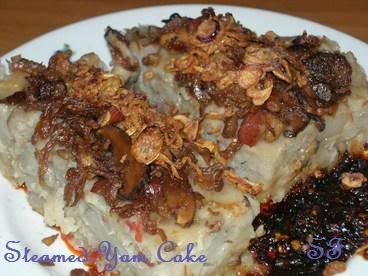 Makes one 24cm round tin
Ingredients:
400 g Yam, diced into small cubes
80 g Dried Shrimps, soaked & chopped
4 Shallots, sliced
300 ml Water
3 tbsp Cooking Oil
8 nos. Chinese Mushrooms, soaked & diced
2 nos. Chinese Sausages, diced
2 tbsp Light Soya Sauce
1-1/2 tsp Salt
1-1/2 tsp Sugar
1/4 Pepper
1/2 tsp Five Spice Powder
Batter
210 g Rice Flour
30 g Wheat Flour
250 ml Water
Method:
Grease the tray with cooking oil. Set aside.
In a mixing bowl, mix rice flour, wheat flour and water to batter. Set aside.
Heat oil in a wok, add sliced shallots and chopped shrimps; Stir-fry till fragrant. Add mushrooms, sausages and all the seasonings; Stir-fry for a while and dish out half of the mixture.
Add in yam and water to the remaining mixture in the wok; Bring to a boil; Turn heat to low and pour in batter. Keep stirring until batter thicken (sticky dough like texture) ; Dish out to prepared tin.
Put yam cake in the steamer over rapid boiling water for 1 hours.
Let cooked yam cake cool completely; Spread the reserved mixture on top; Cut & serve.