Crunchy Almond Biscuits
Ohhh... These biscuits was made as ALMOND is the Theme Of The Week (TOTW 4) at
Nurkochen
.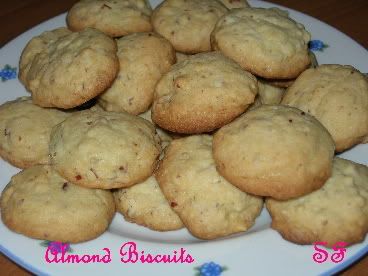 Makes abt 45 pcs
Ingredients:
1-1/2 cup Plain Flour
3 tbsp Corn Flour
3/4 Icing Sugar
1/2 tsp Baking Powder
1/2 tsp Baking Soda
1/4 tsp Salt
125 g Cold Butter, diced
1 Egg, lightly beaten 1/2 tsp
Almond Essence* See note 1-1.5 tsp
Grated Orange Rind (Optional)
1/2 cup Finely Chopped Almond

Method:
In a small bowl, combine beaten egg, almond essence & orange rind (if use); Mix well & set aside.
Sift flours, icing sugar, baking powder, baking soda & salt into a big bowl; Mix well. Rub-in diced cold butter into flour mixture (Using your fingertips), until mixture resembles coarse meal (bread-crumbs like). Add in the chopped almond; mix well. Then add in the egg mixture; using a spoon & stir to form a soft sticky dough.
Pinch some dough & sharp into balls (Using your fingertips), place balls into baking tray lined with baking sheet. Bake at a preheated oven of 180 deg C for 15 - 20 mins or until golden. Allow to cool on tray for 2-3 mins before transfer to the wire rack to cool completely.

Note: Almond Essence can use up to 1 tsp. Personally, I prefer light almond fragrant so I used only 1/2 tsp. Also omitted the orange rind this time.