Baked Omelet Roll
An easy yummy recipe and just nice for 2 (as I havled the recipe). Just right for NK's Theme of the Week (TOTW 2) - Egg!!! Bingo...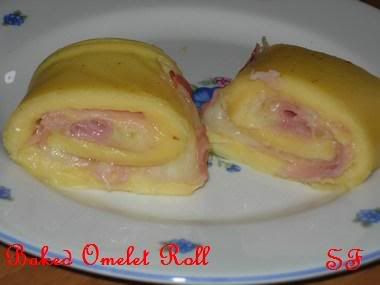 Ingredients:
6 Large Eggs
1/2 cup Milk
1/2 cup Thicken Cream/Whipped Cream
1/2 cup Plain Flour
2 tsp Cornflour/Cornstrach
1/2 tsp Salt
1/4 tsp Garlic Powder
1/4 tsp Ground Black Pepper
1 cup Shredded Mozzarella/Cheddar Cheese
Slices of ham/Cooked ham, chopped

Method:
Preheat oven to 450 deg F (220 deg C). Grease and line the bottom and sides with parchment/non-stick baking paper in 9 X 13 inch baking tray/dish.
Combine eggs, milk and cream until fluffy; Add in flours, salt, garlic powder & black pepper and whisk till smooth; Pour into baking tray. Bake for 15 mins or until eggs are just set. Sprinkle with chopped ham or lay slices of ham evenly on top; Sprinkel with shredded cheese and bake for another 5 - 8 mins or until cheese is melted.
Starting at the short side, roll up omelet while still hot in the pan. Place seam side down and let it cooled slightly & set. Cut into slices and serves.

Note: Feel free to add or subtract to suit your tastes. Bacon, sausage, onions, green peppers, chopped olive , etc... can be add onto the omelet.