Sultana Coconut Pie
Made this yesterday night...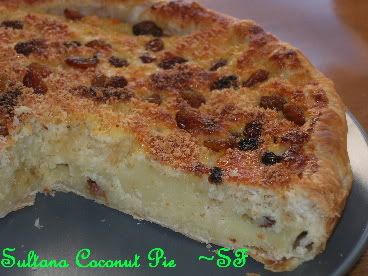 Ingredients:
1 9-inch Unbaked Pie Shell
3/4 cup Plain Flour
2 tbsp Corn Flour
1/4 tsp Salt
4 Medimun Eggs
1/2 cup Coconut Milk
3/4 cup Plain Yogurt
3/4 cup Desiccated coconut, toasted
1/4 cup Desiccated Coconut
1/2 cup Sultana
Method:
Sift plain flour, corn flour and salt into a small bowl; Set aside.
In a large bowl, add beaten eggs, coconut milk and yogurt; Mix well; Add in the flour mixture. Stir until well-combined.
Place unbaked pie shell into pie tin; Sprinkle half of the toasted coconut into base of the pie; Slowly & lightly spoon in half of the batter (Step 2) onto toasted coconut; Sprinkle the remaining toasted coconut onto batter and add half of the sultana onto it.
Again slowly & lightly spoon the remaining batter onto top; sprinkle with the 1/4 cup of desiccated coconut.
Bake at a preheated oven of 180 °C for 30 minutes. Take out the pie and sprinkle the remaining sultana on top and bake for another 15 minutes or until golden brown. Let pie cool comlpetely before cutting.
Note: Reheat pie in the Mircowave at MED-HIGH for 20 seconds before serving; The pie tastes better while warm.