Checkerboard Cookie
Made these for NK's TOTW 10 - Biscuits/Cookies. Recipe from my favorite Basic Cookie Dough and made the Chocolate and Green Tea Version Checkerboard Cookies. Hereby I would like to thank Florence of her generosity for sharing the steps of making checkerboard cookies.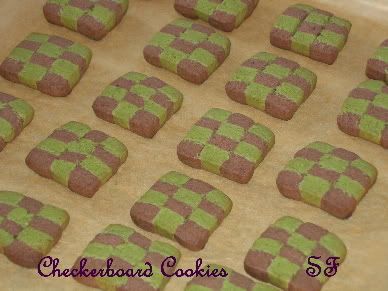 Makes about 40
Ingredients:
180g Butter, rm temp
1 cup Sugar
1 tsp Vanilla Essence
1 Egg, lightly beaten
3 cup Plain Flour
1/2 tsp Salt
1-1/2 tsp Baking Powder
2 tbsp Cocoa Powder, sifted
1-1/2 tbsp Green Tea Powder + 2 tbsp Icing Sugar, sifted
Method:
Sift flour, salt and baking powder in a bowl; Set aside.
Beat butter and sugar in a mixing bowl till light and fluffy; Add in vanilla essence and egg, mix till well-combined; Fold in flour mixture; mix well.
Divide mixture in half; Add cocoa powder to half and green tea powder mixture to the other; Knead lightly & quickly to form a well-blended dough of each.
Put each dough into a plastic / zip-lock bag; Pat and roll it into a rectanglar shape with a rolling pin to a thickness of about 1/2 cm; Refrigate both doughs until firm.
For better understanding of the steps... kindly refer to Florence's blog

.

Bake in a preheated oven of 180 deg C for 15 - 20 minutes or until golden. Cool on trays for 2 - 3 mintues before transfer to the rack to cool completely.