Banana Cake
My hubby loves Banana Cake very much. Just being playful in the kitchen, I didn't use Joanne's Recipe at KC this time and modified a recipe from one of my cookbook. TG... It turned out good, soft and moist. With Joanne's recipe now I have 2 lovely Banana Cake recipes... Do give it a try and your comments are highly appreciated.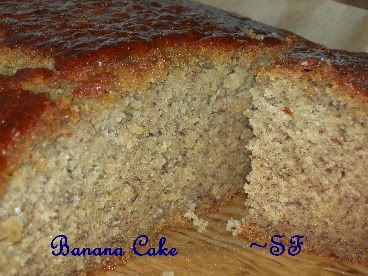 Make a 20cm by 20cm Square Tray
Ingredients:
250g Butter
1 cup Sugar
3 Large Egg
4-5 Ripen Large Banana, blended
2-3/4 cup Flour
1-1/2 tsp Baking Powder
1-1/2 tsp Baking Soda
1/4 tsp Salt
100ml Yogurt
60ml Milk
Method:
Brush baking tray with melted butter; line with baking paper.
Sift flour, baking powder, soda and salt in to a bowl. Set aside.
Cream butter and sugar till light and creamy. Add eggs, one at a time beating well after each addition.
Add the blended banana and yogurt; Beat till conbimed.
Using a metal spoon, fold in sifted flours alternately with milk. Stir until smooth. Spoon into the prepared baking tray and smooth surface.
Bake in a preheated oven of 180 deg C for 60 minutes or till a skewer comes out clean when inserted into the centre of cake. Stand cake in tray for 10 mins before turning out to cool.