Carrot Cake
My first attempt making Carrot Cake... Lucky me, with Del's advise that it would taste better with cream cheese icing. So I made and spreaded cream cheese icing on top. Reviews from friends and DH... It's taste great! :) Thanks Del!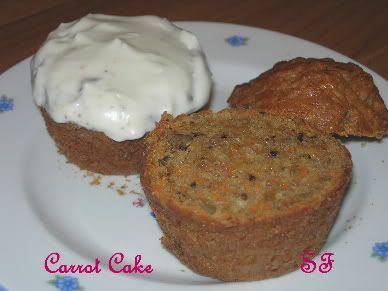 Makes a 23 cm square cake tin
Ingredients:
1 cup Corn Oil
1-1/4 cup Sugar
3 Large Eggs, lightly beaten
2-1/2 cup Plain Flour
1-1/2 tsp Baking Soda
1/2 tsp Salt
1/4 tsp Nutmeg
1-1/2 tsp Ground Cinnamon
1-1/2 tsp Ground Ginger
4-5 medium Carrots, shredded
1/2 cup Desiccated Coconut
2/3 cup Walnuts, coarsely chopped
1 tsp Vanilla Essence
Icing:
185 g Cream Cheese, softened
1/3 cup Icing Sugar
1 tsp Vanilla Essence
Method:
Preheat oven to 180 °C. Brush a deep 23 cm square cake tin with melted butter/oil; line with baking paper. Set aside.
Sift flour, baking soda, salt, nutmeg, cinnamon and ginger into a bowl. Set aside.
In a large mixing bowl, mix oil, sugar, eggs and vanilla until blended; Using a wooden spoon, beat for 1 minutes.
Stir in shredded carrots, desiccated coconut and chopped walnuts; Mix well; Add in the flour mixture; Mix well and pour into the prepared tin, smooth surface.
Bake for 1 hour or until skewer cames out clean when inserted into the centre of the cake. Leave in tin for 10 minutes before turning onto the wire rack.
To make icing - Mix cream cheese, sugar and vanilla in a small bowl. Using a electric beater, beat till light and creamy; Spread on top of the cooled cake. Dust with nutmeg or mixed spiced, if desire.
Note: This cake was made for friends and I did used a 23 cm square cake tin. Before pouring the mixture to the tin, I spooned out some into 2 muffin cups for my DH to test. ;P